Waxing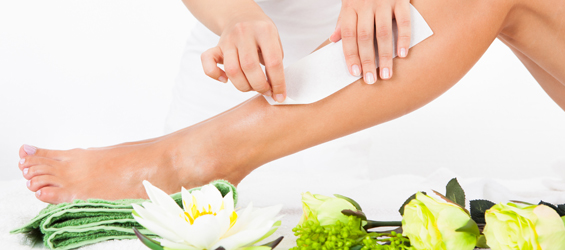 Our professional Estheticians are highly trained in waxing hair removal including full body waxing. Sensitive to your needs, we will help you achieve your desired results with a variety of very high quality, professional use only waxes. In fact, many of our clients have reported a greater reduction in hair regrowth with our waxes as compared to other salons and spas. At our Dublin salon and day spa we are constantly taking advanced training courses to keep on top of the latest waxing hair removal techniques. This results in less bumps and irritation for our clients and our expertise allows for us to recommend the best and most effective after wax care products. We even have products to help with lightening in problems areas such as underarms and bikini areas!
We specialize in bikini waxing and offer the very popular "Brazilian" waxing for women. Our experienced and talented Estheticians will explain to you the various options and walk you through the entire wax hair removal process making sure all of your questions are answered.
We Say "NO!" To Double Dipping
At Threads Beauty Bar & Spa, we pride ourselves in keeping with the highest hygiene standards.  We only use disposable wax applicator sticks and waxing strips.  This means, we never double dip the same wax applicator stick into the wax pot.  A clean applicator stick is dipped into the wax pot, the wax is spread onto your skin and then the stick is disposed of.  This applies to all wax applicator sticks and all parts of the body, including the face.  Our wax strips are disposed of as well and all non disposable laundry is washed in "Sanitize" mode (extremely high heat) and then dried with the highest heat settings. Everything is super clean and fresh as a daisy!
Our Dublin salon and day spa provides a multitude of hair waxing services including:
Eyebrow Waxing
Upper Lip Waxing (women only)
Sideburns Waxing (women only)
Cheek Waxing
Chin Waxing (women only)
Nose Waxing
Full Face Waxing (women only)
Chin Waxing (women only)
Neck Waxing
Arm Waxing
Under Arm Waxing
Shoulder Waxing
Back Waxing, Full & Partial Back
Chest Waxing
Stomach Waxing
Navel Line Waxing
Leg Waxing
Bikini Waxing – Basic
Bikini Waxing – Basic Plus (women only)
Bikini Waxing – Brazilian – Bikini Full (women only)
Click here to schedule a waxing hair removal appointment today.
Threads Beauty Bar & Spa 6620 Dublin Blvd Dublin, CA 94568 Phone: (925) 833-1710  
Waxing Hair Removal Pricing
Eyebrows

$17

Upper Lip (women only)

$10

Full Face with Brows (women only)

$54

Full Face without Brows (women only)

$37

Cheeks

$8

Chin / Full Chin (women only)

$10 / $15

Sideburns (women only)

$15

Nose waxing (outer)

$7

Nostril waxing (inner)

$15

Neck Front (women only)

$10

Neck Back

$15

Under Arms

$17

1/2 arms / Full Arms

$20 / $35

Shoulders

$10

1/2 Back / Full Back

$25 / $50

Chest / Stomach

$25 / $25

Navel Line

$8

1/2 Legs / Full Legs

$35 / $55

Bikini Basic

$25

Bikini Basic Plus (women only)

$35

Bikini Brazilian - Bikini Full (women only)

$65

3 Pack Waxing Bikini Full (women only)

$180 ($15 Savings)

6 Pack Waxing Bikini Full (women only)

$330 ($60 Savings)
*An extra growth fee will apply for heavy growth on all areas of the face and body depending on thickness and difficulty of removal.
Cancellation Policy

For all day spa and certain salon service appointments a credit card will be required at the time of booking. The time needed for the service(s) or spa package that you schedule is reserved specially for you. If you need to cancel or reschedule your appointment(s), we require at least 24 hours advance notice. Failure to reschedule or cancel your appointment(s) with the notice required by this cancellation policy will result in charges to your credit card for the full price of the service(s) that you scheduled.

Check In

Please arrive at least 15 minutes prior to your first scheduled appointment. This will give you time to check in, fill out any requested forms and relax prior to your service beginning. If you arrive late, we might not be able to extend your treatment time so the next guest will not be delayed, and you will be charged for the full value of the service.

Children

For the safety of your children and comfort of other clients, children are not allowed in any part of the spa area, including the waiting area or service rooms during treatments including wax hair removal.