Threading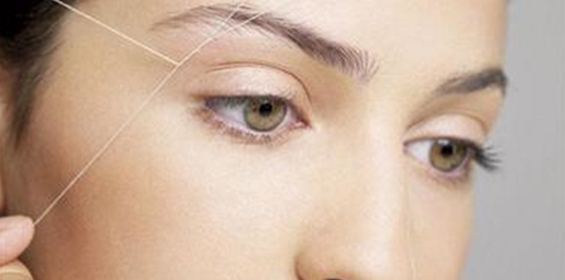 Threads is the premier threading salon in the Bay Area. Our Artists are extremely precise and our clients leave with perfect eyebrows every time! Threading is a unique way of removing unwanted facial hair. It is an ancient Indian technique and is particularly useful in shaping and contouring eyebrows to give you that perfect arch. It can even act like a mini-face lift. It is quick, less painful, & much less expensive then eyebrow waxing. Come into our threading salon and have perfect eyebrows every time. Appointments and walk-ins are welcome. Walk-ins are accommodated upon availability, so it's best to call our Dublin salon and day spa to schedule a specific time for those with limited schedules. We encourage you to learn more about the advantages of eyebrow threading by stopping in or calling us today.
Come in and have perfect threading and perfect eyebrows every time!
Why is the shape of your eyebrows important?
Throughout time, we have admired beautiful women for their characteristic eyebrows. Having perfect eyebrows instantly defines your eyes and can enhance your entire face dramatically.  It can increase your confidence and even make you feel like you've had an instant face lift!
What makes our Bay Area facial threading salon unique?
We first opened our doors at Threads Beauty Bar & Spa in 2005.  We are skilled in our art and all of our staff members are highly trained by one lead person, the Owner.  People always ask us what makes us so different from other threading salons.  First, we love what we do and it shows in the work of our staff!  When you work with our Threaders, you will feel that they are genuinely interested in what you have to say and the look you are trying to achieve.  Second, our philosophy is "Quality over quantity." Our staff is patient and trained to listen to what you would like and are never offended by your suggestions and directions.   We never rush you in and out.  Last but not least, our Threads' Threaders want you to walk out with perfect eyebrows every time!  So, they may give you suggestions or talk you through a long term plan to grow in your eyebrows so that you can ultimately achieve your desired look.
What is the difference between eyebrow threading, plucking/tweezing and waxing?
Plucking/Tweezing – Using tweezers to individually pluck out hairs. It is easy to get a little pluck-happy with tweezers because there is no guide to help you figure out which hairs to remove. Once you start, it's hard to stop! Soon, you are left with just a skinny line of a brow or with uneven lines. It is also really difficult to grab fine hair with tweezers, and boy can this process take forever.
Waxing – Involves spreading a warmed, thick resin to your skin. It can leave you with cleaner lines than plucking, however, has far less control over shaping because of the way it spreads when pressed against your skin. Most describe their skin as feeling raw right after, and those with extremely sensitive skin due to the use of exfoliating products such as fruit acids, anti-aging creams, peels, Retin-A, or Accutane could be left with missing skin. Ouch!
Threading – A process by which a special 100% cotton thread is used to gently remove unwanted facial hair. The special thread is twisted to create a center moving twist which is then glided along skin. Your unwanted hairs then get caught in the twist and are pulled from the root. Most say it is less painful than tweezing and much less aggressive to the skin than waxing. And, because we can take a row of hairs or just one hair at a time, it is extremely precise. It's a true art form!
Although most of our Dublin salon and day spa clients use threading for their eyebrows and upper lip, some also use threading for their entire face! It leaves your skin feeling smooth without the application of any chemicals to your delicate facial skin. Contact our Dublin salon and day spa to schedule a facial threading appointment today!
Click here to schedule a facial threading appointment today.
Threads Beauty Bar & Spa 6620 Dublin Blvd Dublin, CA 94568 Phone: (925) 833-1710
Threading Prices
(only offered for fine to medium course facial hair removal)
Eyebrows

$12

Eyebrow & Upper Lip Combo

$15

Upper Lip

$6

Chin

$6

Full Chin

$10 - 20

Cheeks

$9

Forehead

$7

Forehead Sides

$3

Sideburns

$9

Full Face

$46

*full face walk-in availability is limited, appointment highly recommended

Neck

$5 - $10

Benefits of Threading packages

Purchasing one of the following threading packages has its benefits:

Allows for you to make a Threading appointment with a specific Threader (except our Estheticians).
Saves you money
No need to carry around silly cards waiting to have holes punched in them. Everything is kept in our system and deducted as you check out. We can give you updates after every visit and is very convenient for both you and the kids.
Have an unexpected move out of our area? No problem! Packages are transferable and refundable. Refunds would be prorated based on current regular price.

*Restrictions:

Packages are purchased for individuals and cannot be shared.
Package prices may not be combined with other discounts/promotions

12 Pack Threading Eyebrows

$132 (Get 1 FREE, 12% Savings)

12 Pack Threading Eyebrows Upper Lip

$165 (Get 1 FREE, $15 savings)

12 Pack Threading Full Face

$506 (Get 1 FREE. $46 savings)
***Course or difficult to remove hair add $10 – $20+.