Massage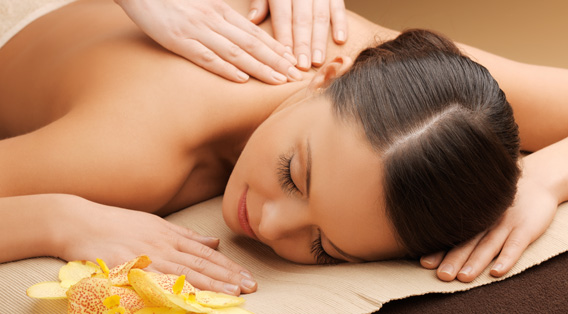 The powerful healing effects of massage have been used in many Asian countries as a necessary part of healthy body function.
Massage can increase circulation, help to eliminate toxins more efficiently, release muscle and mental tensions, and overall, just make you feel great inside and out!
Our massage rooms are quiet and private and the massage tables are equipped for just the right amount of comfort.
A Fusion Massage in Dublin – Our Signature Treatment
Using all natural and organic oils our signature fusion massage offers a fusion of massage techniques from all over the world into just one session. From Swedish, Deep Tissue, Acupressure, Aromatherapy, Reflexology or Lymphatic Drainage our expert massage therapists can adjust to what your body's needs are. If you would like a particular type of massage or would like to focus on certain tensions, simply let your therapist know during your session.
Hot Stone Massage
The use of hot stones for healing also dates back to ancient times. Hot stone massage involves using warmed river stones. These smooth stones are placed at specific sites on the body and also used to glide over muscles with the help of oil. The warmth of the hot stones improves circulation and calms the nervous system. Many people find hot stone massage to be very comforting and relaxing. This style of massage therapy is great for most everyone, especially those who are very stressed because the heat from the hot stones relaxes the muscles, allowing the therapist to work the muscles without using deep pressure.
Pregnancy Massage
Pregnancy massage differs mainly from regular massage in the positioning of the client. The comfy massage table is set up in a semi reclining position, making it safe for the baby, and easy for mom to turn from side to side. Fluffy pillows assist in further comforting your body in its position. Pregnancy massage offers many benefits such as, stress reduction, relief from cramps, spasms and myofascial pain, especially in the lower back, neck and hips. Pregnancy massage also reduces stress on weight-bearing joints. Quite the necessity for every mom to be!
Shirodhara
Shirodhara was developed by Ayurvedic practitioners in India as a restorative therapy. With the help of a special copper vessel, a steady flow of warm specially blended oil is poured onto the third eye (center of forehead slightly above eyes) and then entire forehead in a very specific pattern. Thousands of years old in its origin, this treatment has been highly noted for benefiting the neurophysiological system and to help fight chronic headaches, migraines, insomnia, depression and stress. As the oil flow finishes, excess oil is gently squeezed from your hair and a deep head massage follows, benefiting the nervous system and assisting in bio energy balance of the brain. For the 50 minute session, a neck and shoulder massage puts the cherry on the cake!
Fusion massage: 3pk 25min $129, 6pk 25min $246, 3pk 50min $210, 6pk 50min $402
Shirodhara: 3pk 50min $270, 6pk 50min $510
Click here to schedule a massage appointment today.
Threads Beauty Bar & Spa
6620 Dublin Blvd
Dublin
,
CA
94568
Phone:
(925) 833-1710
Un-Packaged
25 minutes

$45 / $45

Fusion massage / Shirodhara – (short session only available as an add on to any 1 hour+ facial or massage)

An express massage great for those with limited time or just wanting to test the waters.

Also great for those who wish to focus on one small area such as the neck and shoulders or reflexology for the feet. Not recommended for deep tissue as this is generally not enough time to warm up the muscles before applying deep spot pressures.

50 minutes

$75 / $95 / $85 / $95

Fusion massage / Hot Stone massage / Pregnancy massage / Shirodhara

For those who need all over relaxation or those who need deep tissue in a small area. For deep tissue in more or larger areas, massage of 80 minutes or more is recommended.

80 minutes

$110 / $115 / $105

Fusion massage / Hot Stone massage / Pregnancy massage

Recommended for those who prefer deeper pressure. This amount of time allows for proper warming of the tissues which in turn allows for deeper tissue massage. Also great for our signature full body Fusion massage.

110 minutes

$145 / $165 / $155

Fusion massage / Hot Stone massage / Pregnancy massage

Perfect for individuals who receive massage on a seldom basis. This would be the right amount of time to relax all of your muscles head to toe!

Please inquire about available discounted package pricing.
Cancellation Policy

For all day spa and certain salon service appointments a credit card will be required at the time of booking. The time needed for the service(s) or spa package that you schedule is reserved specially for you. If you need to cancel or reschedule your appointment(s), we require at least 24 hours advance notice. Failure to reschedule or cancel your appointment(s) with the notice required by this cancellation policy will result in charges to your credit card for the full price of the service(s) that you scheduled.

Check In

Please arrive at least 15 minutes prior to your first scheduled appointment. This will give you time to check in, fill out any requested forms and relax prior to your service beginning. If you arrive late, we might not be able to extend your treatment time so the next guest will not be delayed, and you will be charged for the full value of the service.

Children

For the safety of your children and comfort of other clients, children are not allowed in any part of the spa area, including the waiting area or service rooms during treatments including wax hair removal.